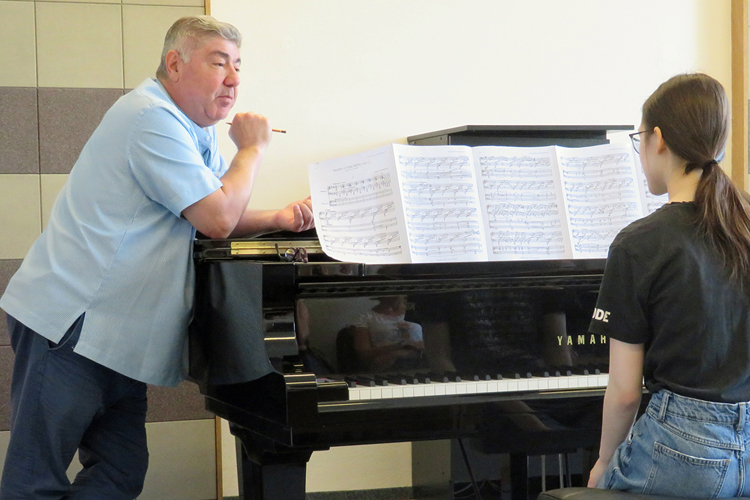 Course-Fee and How to Pay
Dear course participants,
we would like to point out that a slight increase in course fees can be expected compared to the prices of previous years listed below. We will specify during the fall of 2023.
Thank you for your understanding.
Full course-fee:
active participants /lessons in English, German or Russian language/:
   11 000 CZK /Czech Crowns/ for 5 lessons à 50 minutes
   3 800 CZK
The possibility to order and pay smaller number of lessons or even a single lesson or 1 day of a passive participation or to buy more 1 or 2 lessons extra additionally during courses /according to a capacity of a lector/
Course-fee in such case amounts
                                  2 200  CZK for a single lesson
600  CZK for a day of passive participation
Free of charge:
parental attendances of all participants under age of 15 /if they are not piano-teachers or active-passive participants as well/
Doped charge:
How to pay:
please, payments deposit to Prague Conservatory bank account number: 2001630003, Bank Code 6000, Variable Symbol 72024.
As a message for recipient put in your name and as a purpose of the fee = course-fee.
Payment deadline: May 31, 2024
Important Notice:
your bank will probably take some charges within money's transfer from your currency /EUR, USD etc./ to Czech Crowns /CZK/. It is necessary to learn it before not to pay the course-fee in net /short price/, but in gross amount /i.e. 11 000 CZK + possible bank charges/. 
Data for the international bank transfer:
IBAN : CZ31 6000 0000 0020 0163 0003
BIC/SWIFT : PMBPCZPP
PPF Banka a.s.
Evropska 2690/17
160 41 Praha 6
Czech Republic
Organizer will confirm receiving of your application by e-mail in no time.
While the course fee comes to Conservatory bank account the Courses' entrance will be confirmed in no time.
Notice: when you do not receive any confirmation of your application /or a fee-paying/ until June 10, 2024, inform us immediately, please. It may be a non-delivered e-mail or another fault.